Dog Grooming Services in Hamilton
Call today on 07 853 3191
The Grooming Room in Hamilton provides a variety of dog grooming services.
Based in Hamilton we provide a home away from home experience that your dog will love. Owners can confidently leave their dog with us, knowing they are with a trusted groomer, in a safe friendly environment.
Making your dog feel comfortable while they get clipped, trimmed, washed and pampered is our ultimate aim.  We provide affordable and professional dog grooming services for the Hamilton area.
Double shampoo, conditioner, fluff dry and brush through

Toy – Small breed

(Other sizes price on request)
Double shampoo, conditioner, fluff dry, nails trimmed, clipped and scissored to desired finish

Toy breed up to 4kg from $70

 

Small breed 5–8kg from $75

 

Medium breed 9-12kg from 

$80

 

Large breed price on request
Teeth Clean or Nail Clip
Only
Teeth scaled to remove tartar, brushed and fresh breath gel

or

Nails clipped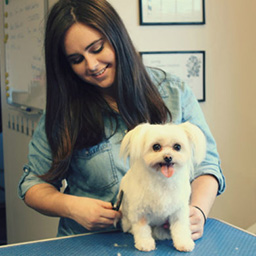 Kristyn
Owner/Operator
My names Kristyn, and I am the owner of the Grooming Room, located in Pet Essentials in Rototuna, Hamilton. Since childhood I have always been passionate about animals, growing up with 2 cats, a goldfish and a budgie, but always wishing I could have a dog. I got my first dog, Shiloh the Staffordshire cross as soon as I was old enough! I always knew I wanted to work with animals, especially dogs, so I got my certificate in animal care through Wintec. Then a grooming job opportunity opened up. I had never thought about grooming before, but thought why not, and took the job. That was years ago now and I never realised how much I would love it, It's now not only my job but my passion. I spend my free time learning new styles and techniques, and always keeping up with new products in the industry. The obvious next step was opening up a grooming business for myself, so I did! I know every dog will be treated with care, patience and a gentle touch! I make sure every dog leaves happy, stress free and of course immaculately groomed.
Training – Certificate in Animal Care
Laura
Professional Groomer
My name is Laura. I have spent most of my life growing up in Te Awamutu, pets have always been a part of my life. I breed Cockatiels and Suen Conures and have owned cats, dogs, chickens and rabbits. Animals have been my passion from a young age. Grooming dogs started when my Mum bought a pair of clippers and I got to groom our dog Zac. On finishing highschool, I undertook a year of vet nursing training and then pursued my grooming interest, and completed training in Auckland at the 'Angels Grooming Academy'. I have now been grooming for four years and am excited to be on board at The Grooming Room
Training – Certificate in Animal Care
Pet Essentials Rototuna
23 Horsham Downs Rd, Rototuna, Hamilton
Open:    08:30 -16:00 Monday – Sunday
Phone:  07 853 3191
"Loved the groom you did on Boris. Will be back, highly recommend!"
Melissa Bird
"Kristyn took great care with my 4 a 1/2 month spoodle puppy. I was impressed with the great job she did with her 1st groom session. Kristyn is very professional in every way. I will certainly be returning for followup pamper sessions for my Little Girl. Highly recommend"
Linda Wells
"Mr Murphy had his first ever grooming today and is such a lovely clean boy I was so lucky to win a free grooming from Kristyn thank you so much we will be back. Mr Murphy is 13 years old and deserves to be treated to a grooming."
Colin Karen Taylor
"Amazing groomer, very down to earth and talented. I don't have a dog but I have worked alongside Kristyn at our previous place of work, she was lovely to work with and nobody could fault her grooming standards. Highly recommend 🙂"
Jade Ellen Kurzfeld